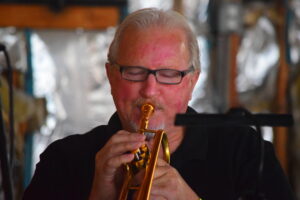 My name is Steve Robertson and I began my journey in music as a percussionist.  In high school I was the Oregon State Solo contest winner in snare drum and fully committed to a career in teaching and playing percussion. At that time I also played in many rock bands.  At the time the only music was live music and it was common to work every weekend playing after game dances at schools or other venues.  My love for music took me to Lewis and Clark College in Portland where I received my teaching certificate and a Bachelor's degree.  This was followed by a Master's degree from the University of Oregon.   At that time I was busy nearly every weekend playing in jazz dance bands in the Portland area.  I also was a substitute for the Oregon Symphony allowing some legit percussion work.
I began teaching band in 1972 and worked in the following schools: Riverdale (Oregon), Grants Pass (Oregon), Aloha (Oregon), Pacific University (Oregon), Sunset (Oregon), Clayton Valley (California),  Blue Devils Drum and Bugle Corps (California), Columbia River (Washington) and Skyview (Washington).  During my years as a band director I arranged music for all levels of concert band, jazz band, percussion ensemble,, drum and bugle corps and marching band.   My high school bands traveled to all parts of the United State as well as Taiwan and China often as special invited guests.
Last year I retired after 44 years of public school teaching and am now trying to become a serious trumpet player.  I have studied with Dr. Gerald Webster for the past four years and perform currently in a variety of groups.  They include the Southwest Washington Wind Symphony, the Clark College Wind Ensemble, the Big New Band (Portland), the Jewish Community Orchestra (Oregon), the Oregon Sinfonietta and of course the VanPort Jazz band.  Switching instruments as an adult has been a challenge that I really enjoy and I strive to play my trumpet every day!
I play on the following trumpet equipment: Monette Bb, Monette C, Besson Cornet, Getzen Custom  Flugelhorn and a Schmidt Piccolo.  I use Monette mouthpieces on all of the horns.