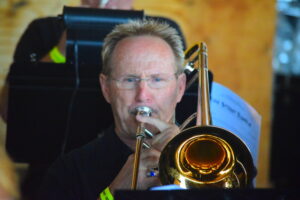 Hi, my name is Bob Fitzgerald, and I'm proud to be playing lead in our outstanding Trombone section. I'm also very thrilled to be one of the vocalists in our band, which includes sharing the stage in duets with our outstanding female vocalist, Patti Perigo. Patti also does an amazing job covering the fourth voice in our incomparable Trumpet section when she's not at the mic.
Instrumental music actually began for me back in 1961 as a Freshman at a local junior high school in San Leandro, California, where I grew up. I started out as a new kid in beginning band at the ripe old age of fourteen. In reality, the relationship between me and my Trombone happened by default, because during that first day of band class that year, we were all given the opportunity to choose the instrument we wished to play. By the time they came around to me, however, Trombone was the only instrument they had left, so, here I am.
So with great patience and determination, instrumental music, and the Trombone in particular took me through high school, graduating in 1965, a couple of "find myself" years as a music major at the local community college, then, out of nowhere it happened. One afternoon in the winter of 1967 I received an ominous letter from the government…my draft notice.
After considerable agonizing over my options, if I had any that is, my father made the suggestion that given my musical background, I should give some thought to enlisting in the Navy and applying to the Naval Music program. So after some letters of recommendation, a couple of auditions, three grueling months of Basic Training at NTC San Diego, I was accepted to the U.S. Naval School of Music for ten months of military protocol and music, at the Naval Amphibious Base in Norfolk, Virginia. After graduation, I was assigned to a seagoing unit as lead Trombone in Unit Band 163 for two years, attached to Carrier Divisions 3 and 5, home ported at North Island, San Diego. An interesting couple of years and a wonderful learning experience for me I'll never forget, I forged a lot of great friendships during that time. One particular highlight of my time as a musician in the Navy was when our band was combined with UB 165 to form the ceremonial and show band on board the USS Hornet for the recovery operation of the Apollo 11 Astronauts, (the first Moonwalk), in 1969. After spending my last year with the Naval Band, Naval Station Treasure Island, San Francisco, I continued my involvement as a civilian musician in a wide variety of musical groups and bands throughout the Bay Area until my retirement and relocation.
Music is my life, I love it, but first and absolutely foremost, I would not enjoy the wonderful life I live today without the love and endless support of my high school sweetheart of more than 50 years. My girl Flora is my best friend, my confidant, my greatest fan, and my toughest critic, she looks out for me and keeps my feet planted firmly on the ground. We have an amazing son and daughter and five wonderful grandkids, four boys and one girl, ranging in ages from 8 to 21 years.
In 2013 we both retired and left the San Francisco Bay Area, where we both grew up and raised our family, and we headed to the "Great Northwest". We stopped in Washington, and made our new home in Vancouver. Once settled in, I wanted to pursue my music up here, but again, I was the new kid in town, that's when I met Cary Pederson, and Van Port Jazz…it just doesn't get much better than that.